Richford, Vermont
2008 Main Street Bridge
Repair Project
The 1928 bridge crossing the Missisquoi River in Richford, Vermont
is being repaired as part of the
Historic Metal Truss Bridge Preservation Plan.
The Morrisville firm of Blow & Cote, Inc. is putting in a temporary bridge so that the Main Street bridge can be repaired.
The panoramic images on this page were created with the free Autostitch program.
---
March 14, 2008: Crane set-up
---
March 20, 2008: Broken crane

It looked like the crane was fishing. Note the island of boulders and stone in the middle of the river on which the center support for the temporary bridge will be built.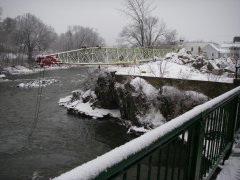 ---
March 27, 2008: Temporary bridge site

Old pictures of the same site. The ice jam is from 2007.
---
April 10, 2008: Bridge assembly

2000x588 208KB
7567x2225 2.0MB
The bridge crossed the river on Friday the 10th. This picture was taken on Sunday the 13th.

2000x366 207KB
6000x1097 1.4MB
12106x2213 4.6MB
---
May 2, 2008: A tale of two bridges

Prep work for the old bridge restoration has begun.

3000x568 361KB
6000x1136 1.2MB
11819x2238 3.7MB
---
July 14, 2008: An overhead view

These views were taken from the top floor of the old drug store building. The Autostitch program warped the left side of the bridge closeup. The bridge is actually straight. Note the water pipe that runs under the west side sidewalk.

1637x500 168KB
5000x1527 1.1MB
21984x6713 8.6MB
Copyright © 2008, Richard Heurtley. All rights reserved.